Ingrid Darragh - GIS team leader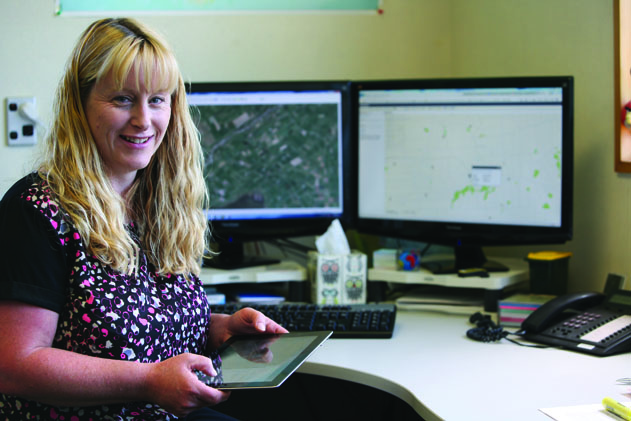 Ingrid Darragh is the GIS guru having been with Council since 2001 and now has the role of GIS team leader.
She says Geographic Information Systems (GIS) is a great tool for bringing different datasets together and analysing them to find out what is happening at a given location. With a background in I.T. and a knack for computers, Ingrid was given the opportunity to study GIS while working at Environment Southland and has been using the technology ever since.
"In my role I work with different datasets from all over the Council relating to Biosecurity, Consents, Environmental Data and Rates as well as core GIS datasets like aerial imagery and property boundaries. I am also involved with developing spatial solutions to help meet Council's data needs, for example creating mobile data collection and survey forms for staff in the field. A big part of my job is taking council data and giving it a spatial representation so that it can be viewed in interactive maps. Many people find it easier to understand something displayed spatially, rather than in a spreadsheet. Having information presented in a spatial and interactive way is also helpful when looking for patterns and trends."
In her time with the programme she's watched what started as a system used mainly by local and central government, to something we all use every day without realising it. When you use your smart phone to navigate and select the best route to take in your car, or you search Google Maps for restaurants near your current location, you are using GIS technology.
While her role within the council doesn't necessarily put her directly in the eye of the public, Ingrid says she enjoys knowing what she does is helpful to both the community and staff. "What we do has a lot of internal application but is also useful to the public, for example the Swimming and Shellfish map on our website that shows if your local swimming spot is safe to swim at, is updated using GIS."
Part of being in the GIS team, means that you may be called on to help in a Civil Defence emergency. In the past Ingrid has been called on to help out in Wellington after the Kaikoura earthquake in 2016.
When not at work, Ingrid says she can be found enjoying the outdoors, on one of many of the walking tracks in the region.
Matt Hoffman - senior consents officer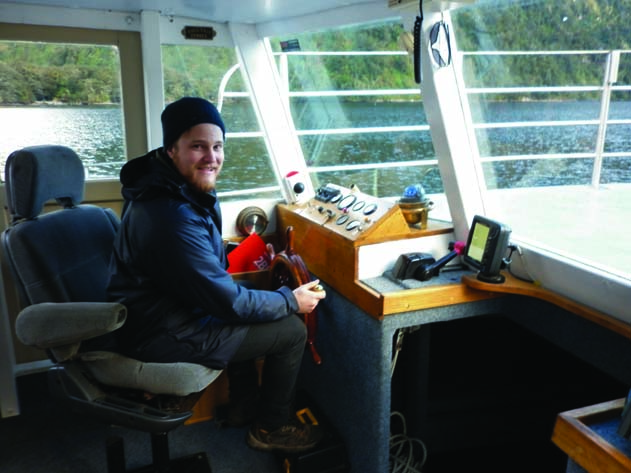 As Southlanders we love our coastal areas. Visitors can't help but be inspired by our 3000 km of dramatic coastlines, spanning from the Catlins and Stewart Island across to Fiordland.
A born and bred Southlander, Matt has been a consents officer at Environment Southland since 2011. His focus is on coastal consent applications, which he says is quite different from other areas in consents due to the lack of property rights. "The fact that the coastline is public space means there can be competing interests and tensions that need to be worked through," he says.
A large part of Matt's role is to act as a facilitator between consent applicants and affected parties. His role is that of an advisor, not decision-maker. This involves gathering and interpreting the information presented to him by the applicant, assessing that information in terms of a range of planning documents and preparing recommendations.
Matt's work is complex. He needs to be able to interpret planning documents and have a good understanding of the Resource Management Act. With a background in science (Honours in Environmental Management and a Master of Science in Geography) Matt understands the complexities of people and their impacts on the environment.
A self-described 'people person', Matt's ability to relate and communicate well with a wide range of people is also key to his success. "It is really important in this job to be a bit of a 'people' person; to be able to build relationships and links."
Site visits – there are worse places to work!
Although Matt spends about 80% of his time in the office, the rest is spent conducting site visits. Site visits to Fiordland and Stewart Island are a real perk of the job.
It's important for Matt to get a sense of potential issues in relation to the 'bigger picture' while visiting a site. Site visits are a vital part of the job, and influence the recommendations he makes to decision-makers.
Outside of work, Matt's a lead singer in not one but two bands, and he writes his own songs as well.